Electrolysis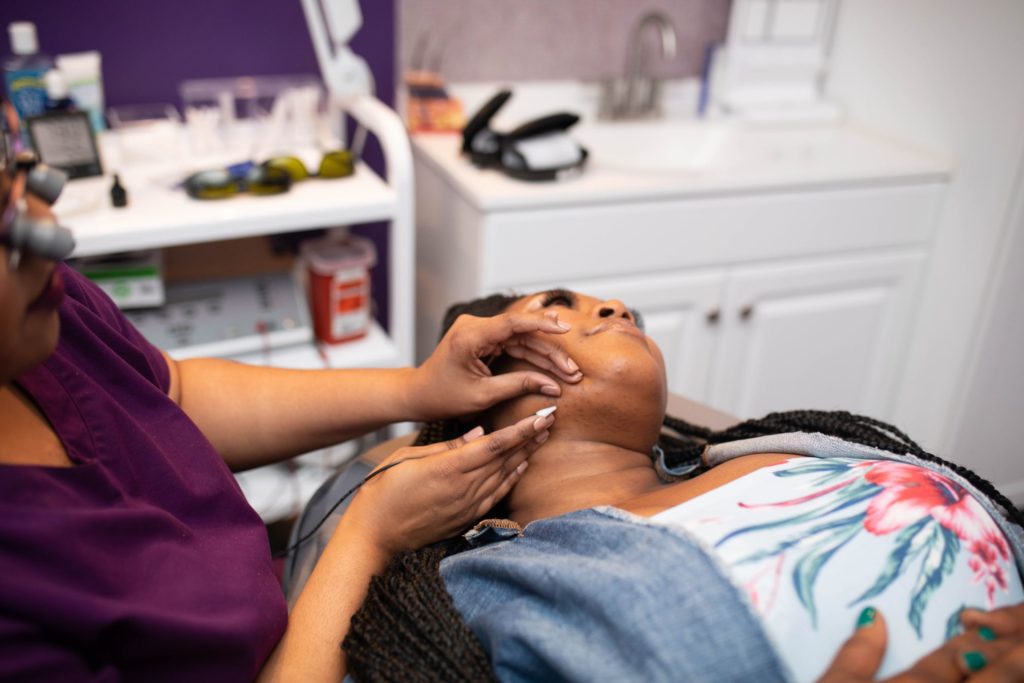 Does Electrolysis hurt?
The painful facts! Everybody has a different pain threshold, and when you have your FREE consultation a few hairs will be treated to give you an idea of how much discomfort will be involved. Different areas of the body and hair type, as well as what hair removal treatments you have already been using, can all impact on the sensation experienced by electrolysis. Essentially the treatment is destroying follicle tissue which cannot but cause discomfort, however as well as settings being adjusted there are also topical numbing products that can be used. Some people just find the pain annoying whilst others feel more discomfort. It is quite acceptable to use medication such as Panadol which does seem to help. Our pre-care instruction sheet gives more information.
Can Electrolysis be used on all areas?
The most common areas ladies have treated are chest, face, bikini line, abdomen, toes, and fingers whilst men use the treatment more for top areas of the arms, back and nose, around the ears, and ingrown hair around beard edges. Basically any area can be treated safely with the exception of the inner areas of both the nose and ears (ear rims are fine).
What about Electrolysis during pregnancy?
The first priority is to ensure both mother and baby are in good health and the Thermolysis Electrolysis method is preferred as contra-indications are fewer. This method uses a very weak intensity of alternating current (AC) and poses no risk to either mother or baby but we would not recommend treatment on either abdominal or breast areas. Speak to your GP or therapist about this issue.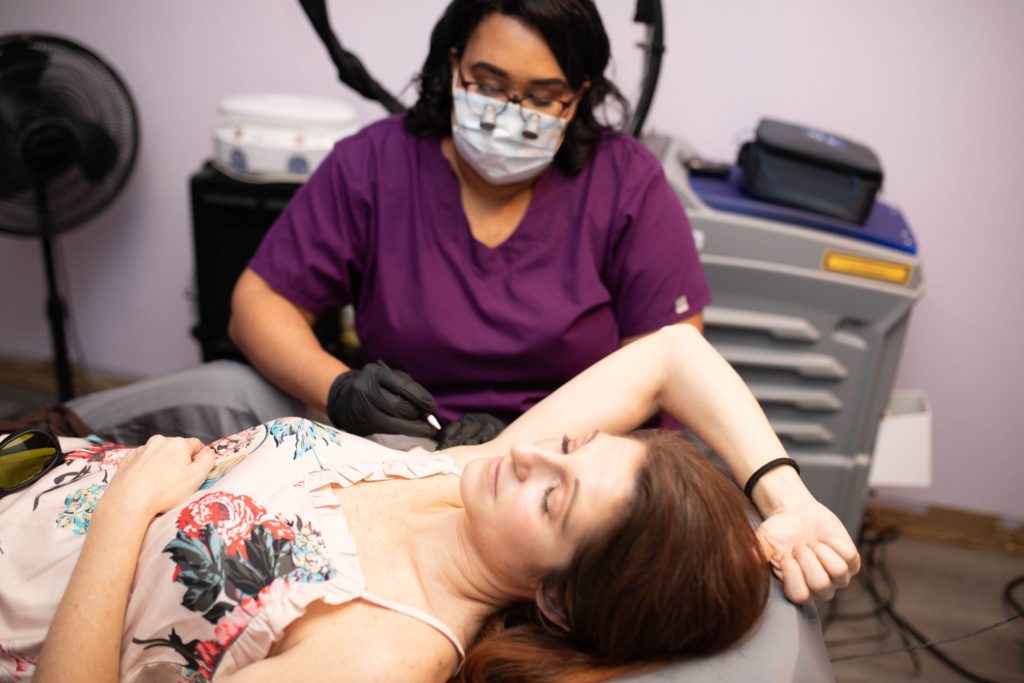 What are the side effects of electrolysis treatment?
Slight redness and sometimes swelling can occur following electrolysis treatment but this will usually disappear over a few hours following treatment. Treated areas should be kept as clean as possible for a day after electrolysis as any bacteria entering the follicle may cause whiteheads, tiny scabs may also appear. Do not pick off the scabs as they are the skin's method of healing. Scabs are caused by lymph fluid being excreted because of underlying tissue trauma then drying on the skin's surface. These scabs may possibly be avoided by the application of antibacterial ointment to areas that have been treated. Our After Care information booklet will be given to you at your initial appointment so you can read more on this subject. There should be no permanent damage to treated areas of skin if electrolysis is properly performed.
Can I believe the claims – someone I know says it doesn't work?
Reputable practitioners belong to "The Association of Registered Beauty Therapists New Zealand", was the clinic they attended a member? Yes electrolysis does work but the treatment must be done properly and we recommend our free consultation and the treatment of a small area to see what results are achieved. There will be various reasons why someone is not happy with electrolysis treatment from consultation misunderstandings to substandard treatment, or perhaps the person failed to complete the full course of treatment but still expected the same final result.
My usual treatment at least keeps my face relatively hair-free whereas electrolysis will take months.
You can cut or shave (even facial hair) between appointments providing enough is showing on the day of your treatment.
Frequency of Electrolysis Treatments
Electrolysis requires a series of treatments to completely eradicate any given area of hair, due to the length of hair growth cycles and temporary methods of removal used before beginning electrolysis treatment. It takes several months for the human body to accomplish the completion of the hair growth cycles; so hair can be treated. With consistent treatments by the end of the first three months, you will see significant improvement! Everybody has different hair density therefore every treatment is different, however, in general, it can take around a year or more to obtain the desired results. This can sound like a long time but although you think you have only 3 or 4 hairs in a certain area there may actually be more like 30 but growing one after the other. As the hairs get finer over the course of treatment the time between appointments will lengthen. As well as the thickness of the hair you want to treat other factors such as skin sensitivity can impact the length of time it will take to complete the process. Appointments can be from 15 minutes to 2 hours, depending on the size of the area to be treated. We recommend an approach of little and often for your electrolysis sessions so starting treatment when you are likely to be away for an extended period or know you will be too busy to keep to the schedule is to be avoided. We give a no-obligation consultation to discuss all these matters with you, we cannot work out a treatment plan or give you advice without meeting you. One important thing to remember is that although the treatment may take a year you will be able to see the difference with every treatment.
Cost of Electrolysis
As everybody's hair thickness and growth are different – it is impossible to give a finite cost of treatment. Our consultant will be able to give an estimate on the cost of the treatment you wish to have but this is also affected by the physiology of each person which may result in more appointments being necessary due to follicle resistance being above average. There are too many variables regrettably to be able to quote a definite figure.
Laser Hair Removal
Is a Motus AX treatment right for me?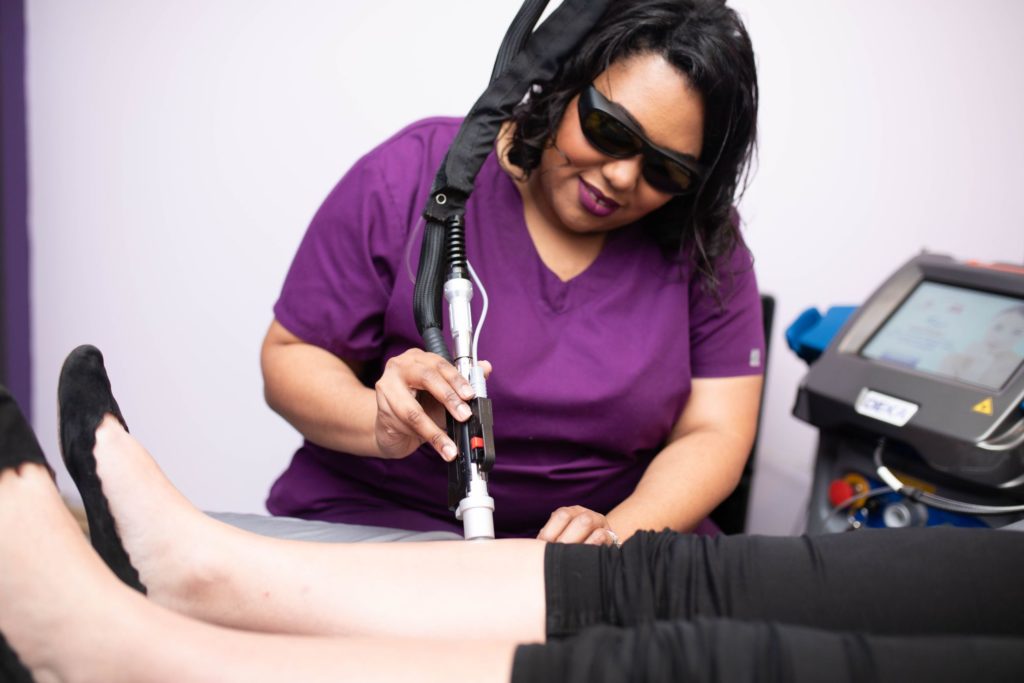 One of the breakthrough benefits of the Motus AX is that it is safe and effective for light to dark skin types. Whether you have fine, light hair, or a darker skin tone, the Motus AX can be used to target and permanently remove unwanted hair. The Motus AX may also be used with tanned skin however, it is always recommended that you talk with your physician about your specific skin conditions before treatment.
What makes Motus AX different from other lasers for hair removal?
The three main differences between the Motus AX and other technologies for laser hair removal are:
Total comfort
Speed and effectiveness of the treatment, and
Use across all skin types
The Motus AX eliminates the trade-offs that come with other laser hair removal options. For instance, an Nd: YAG laser can be used across skin types but is less effective. Other technologies are highly effective but treatments are difficult to tolerate.
Will my treatment hurt?
One of the major benefits of the Motus AX, is that the Moveo technology eliminates the discomfort of typical laser hair removal. Most people only feel a warming sensation making the experience a highly comfortable one.
How long will my treatment take?
Treatment length will vary depending on the area being treated. The Motus AX is relatively fast and able to complete a large area in under 5 minutes.
How many sessions will I need?
The number of sessions required to eliminate hair completely depends on the individual. A typical laser hair removal regimen is 5-6 sessions spaced one month apart and then maintenance treatments as needed. Given the efficacy of the Motus AX, you may need fewer sessions and could go longer before needing a touch-up treatment.